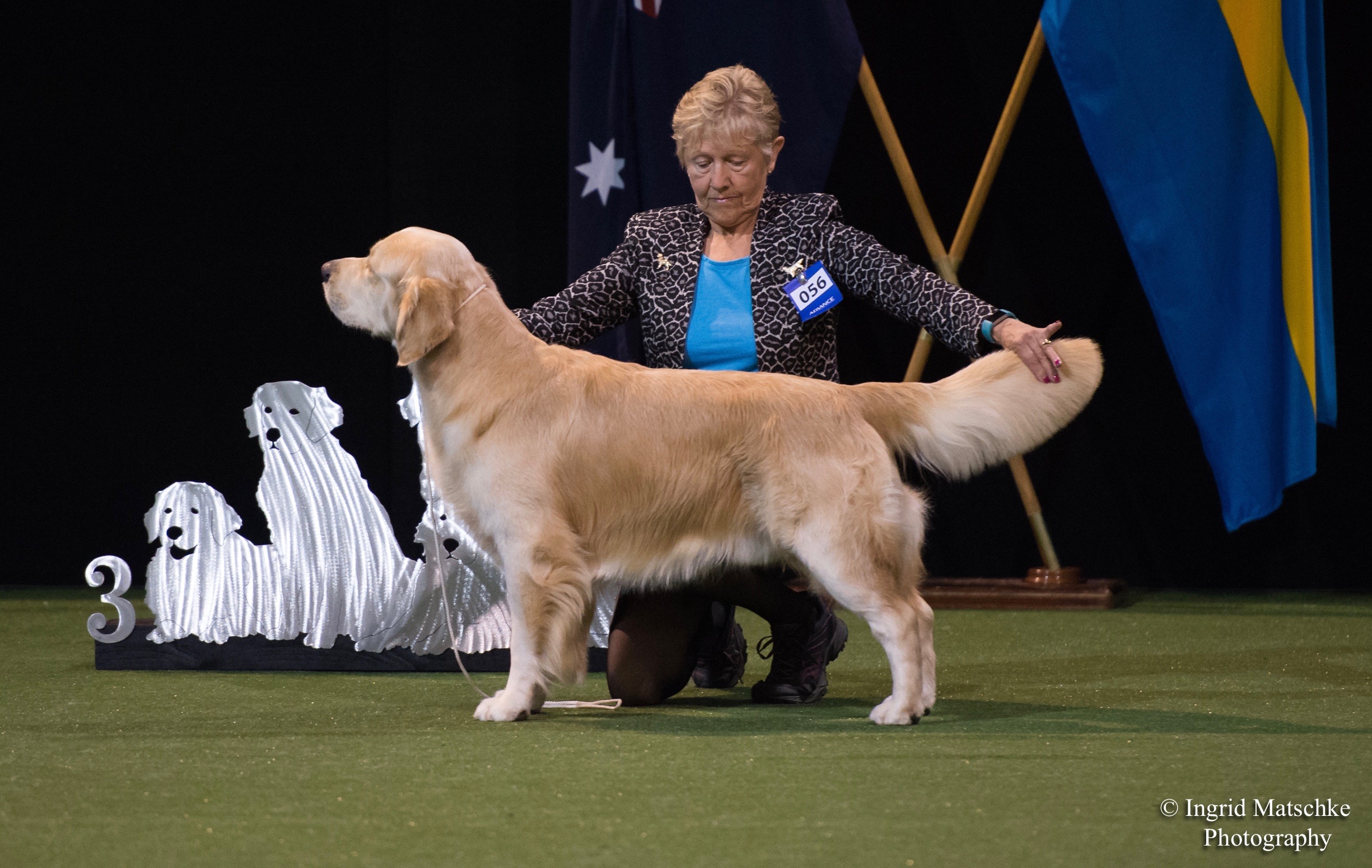 Photo taken at the 10th National Golden Retriever Show in Adelaide on 30 May, 2017 judged 4th in the Australian Bred dog class - Judge: Golden Retriever specialist judge Mr Kjell Svensson (Sweden)
Critique by Mr Svensson: "Well balanced and very true with correct proportions. Masculine head and soft expression. Well balanced angulation in front and behind. Good body and nice coat. Moves well".
You can see a video of Hunter collecting the morning paper at home. He waits at the front door before leaving the house, walks to the footpath, picks up the paper and brings it inside: https://www.youtube.com/watch?v=8nG8vML1iRM&list=UU8RmlWENNcWAiw6Ne4SP8xw&index=5
Sire: Aust Champ Fernfall Let Me Entertain You: Dam: Bicklewood Wine N Roses (Snowy)
Hip scores 1:1; Elbow scores 0:0, Clear heart and eyes.
Animal Genetics, Florida test results for PRA1, PRA2, Ichthyosis and muscular dystropy were all clear.
Hunter has sired several litters and is available for natural matings or via frozen semen to approved bitches. This is held with Sires on Ice in Pearcedale, Victoria.
Hunter was one of nine puppies born to Snowy who has become one of our family. He was entered as a Minor Puppy in the Golden Retriever Club of Victoria Championship Show in October and was placed 1st out of five puppies. The Norwegian judge, Borge Espeland was complementary in his critique: 6 months old. Lovely type. Excellent masculine head. Lovely proportions. Strong neck with good raise. Nice body for his age. Strong level topline. Excellent mover. Good coat for his age.
Hunter attended the Eastern Suburbs Obedience Club regularly in his first year and is proving to be sociable with other dogs, children and adults. He goes daily to the off lead parks at different locations to help reinforce his sociability with different breeds and we know this exposure to a variety of environments needs to be a lifelong activity.
If you check out the News 2015-2021 Hunter section of the website you can see the plans we had for this year. Just in the nick of time, Hunter achieved his Championship status as an Intermediate Dog with a Dog Challenge win at the Scottish Breeds Dog Club of Vic Champ Show on 21 November, 2015 under NZ judge Mr N Trainor.
Pedigree for Grand Ch Bicklewood Goodwill Hunting
Golden Retriever
Pedigree for Grand Ch Bicklewood Goodwill Hunting - HUNTER Check Snowy's pedigree for information on hip scores for our puppies.
Sire
Aust Ch Fernfall Let Me Entertain You (1/3)(0/0)
Sire
Aust Ch Chaleur High N Mighty (2/4)
Sire
Aust Ch & NZ Ch Kaparla Lochinvar (Imp NZ) (6/4)
Sire
Aust Ch Sandusky Klammer Aust CDX (Imp SWD) (3/3)
Dam
Aust Ch Dalius Band of Gold (Imp UK) (11/3)
Dam
Chaleur Witchery (4/9)
Sire
Aust Ch Amirene Rory's Image Imp UK (4/9)
Dam
Chaleur Kiss Me Kate (6/7)
Dam
Aust Ch Kaparla Classic Catch
Sire
Aust Grand Ch Tulzean Autumn Tango (3/4)
Sire
Aust & UK Sh Ch Stanroph Shogun
Dam
Strathraer Arctic Skye (IID) (3/3)
Dam
Xanthos Are you Talking to Me
Sire
Dutch Ch German Ch German Junior Ch Team Spirit of Glen Sheallag
Dam
German Ch Xanthos Lah Di Dah SGWC
Dam
Bicklewood Wine N Roses (0/0)(0/0)
Sire
Aust Supreme Ch Trigolden Luv to Tango (3/4)
Sire
Aust Grand Champion Tulzean Autumn Tango (3/4)
Sire
Aust & UK Sh Ch Stanroph Shogun
Dam
Strathraer Arctic Skye (IID) (3/3)
Dam
Aust Ch Goldog Alpine Hylandmist
Sire
Aust Grand Champion Goldog Alpine Highland 5/5
Dam
Aust Ch Goldog Alpine Dancer
Dam
Aust Ch Fernfall Annabella (3/12)
Sire
Annabella (3/12)Reg No: 3100137514 Colour: Gold Ch Fernfall Sun Power Best of Breed (7/9)
Sire
Ch Verduras Just Jasper (2/3)
Dam
Ch Fernfall Chasselas (8/13)
Dam
Fernfall Liberty Belle (5/3)
Sire
Ch Annador Just It and Abit (4/5)
Dam
Ch Fieldey First Class
FREE pedigree generator at Dog Resources the dog breeds directory. pedigree maker
Sponsored by Whelping Boxes